Doctors & Staff
Meet the experienced and friendly doctors and staff who make Edmond Family Eye Care a proud provider of vision care products and services in Edmond.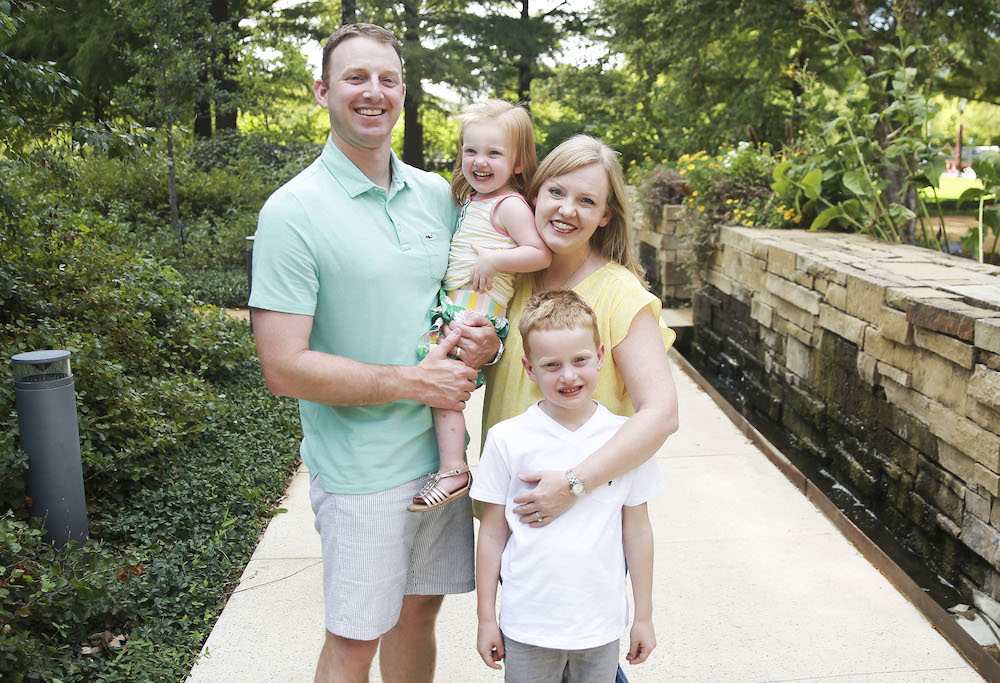 ---
Matthew Morris, O.D.
Dr. Matthew Morris is a native of Ponca City, Oklahoma. He attended the University of Oklahoma where he received a Bachelor of Science in Zoology in 2005. Upon graduating from OU, he moved to Memphis, Tennessee to attend the Southern College of Optometry where he graduated in 2009. While in school, Dr. Morris completed a clinical externship at BVA in Edmond, OK where he gained valuable experience in the treatment and management of ocular disease and surgical co-management. He also completed a clinical externship in primary care optometry at Primary Eyecare Group in Nashville, Tennessee.
Dr. Morris practices family eye care which includes the prescribing and fitting of glasses and contact lenses, along with the diagnosis and treatment of ocular disease. He also does pre- and post-operative care for patients undergoing cataract, refractive and glaucoma surgeries. Dr. Morris is a member of the American Optometric Association, and the Oklahoma Association of Optometric Physicians. Before purchasing the practice from Dr. Elisabeth Wilkerson in 2012, Dr. Morris practiced in Norman Oklahoma.
In June of 2009 Dr. Morris married his wife, Dr. Tracy Morris of Edmond, OK. They live in Edmond with their children Ethan and Madeline. Dr. Morris enjoys hunting with his dog Layla, watching OU football, playing guitar and golfing.
---
Tracy Morris, O.D.
Dr. Tracy Morris was born and raised in Edmond, OK. She attended the University of Kansas where she received a Bachelor of Fine Arts in Design in 2002. Later, she attended the Southern College of Optometry where she graduated Magna Cum Laude in 2009. While in school, Dr. Tracy did a clinical externship at Children's Mercy Hospital in Kansas City, MO. Here she learned expanded skills in the field of pediatric optometry. She also completed an externship at Primary Eyecare Group in Nashville, Tennessee focusing on primary care optometry.
Dr. Morris is currently a member of the American Optometric Association, and the Oklahoma Association of Optometric Physicians. Her main interests include family eye care, contact lens fitting, pediatrics and ocular aesthetics.
Dr. Morris resides in Edmond with her husband, Dr. Matt, and their children Ethan and Madeline. She loves spending time with her family, traveling, going to the lake and watching KU basketball.
---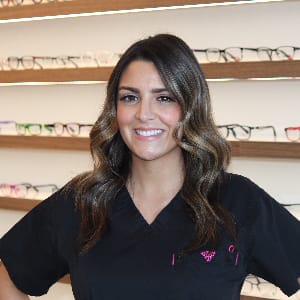 Katie Chalifoux, CPO
Katie was born in Weatherford, Oklahoma, and moved to Edmond in 2009. In June of 2010, Katie began working for Dr. Elisabeth Wilkerson, and continued to work for the Morris' when they purchased the practice in 2012. In 2018, she received her Bachelor's degree in Biomedical Science. By the end of 2022 she will be a licensed Esthetician, and looks forward to bringing her love for science and skin care to help you all achieve your skin goals in our clinic! Katie married her husband in 2010 and they have two little girls. Her interests include baby goats, all things food, and family time.
---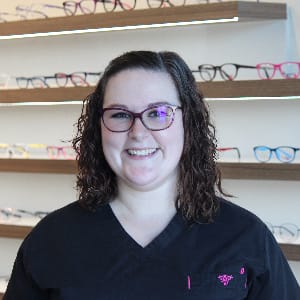 Cameo Howell, CPO
Cameo was born in Flagstaff, Arizona and moved to Edmond when she was 7-years-old. She began working at The Vision Center of Edmond in August of 2013. Since then, Cameo has become a Certified Paraoptometric and is working on the next level of certification. Cameo enjoys working in the field of optometry. She knows from her own experience how a problem with your vision can affect every detail of your life. In her free time, she enjoys photography, playing with her dogs and practicing yoga.
---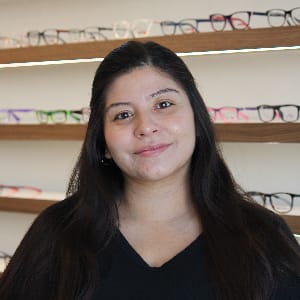 Gabby Sanchez, Contact Lens Technician
Gabby was born in Colorado and moved to Oklahoma when she was 10. She graduated high school in 2013 and began attending The University of Central Oklahoma the same year. She began working at The Vision Center of Edmond in September of 2016 and is a valued member of our practice. Gabby welcomed a precious little girl in December of 2021. She enjoys music, reading, traveling and hiking with her two dogs and new family!
---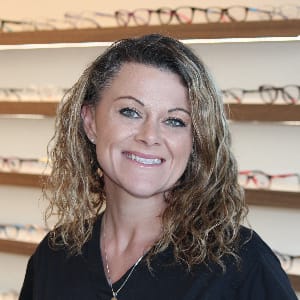 Lori London, Optician
Lori was born in Sallisaw & raised in Gans, Oklahoma. Her heart for others landed her as a preschool teacher for many years. Lori also enjoyed her time working for the Chickasaw Nation. She is the proud mom of three boys, whom she loves spending time with. She also enjoys time with her boyfriend Ryan, and all of their extended families. Lori's favorite pasttime is horseback riding.
---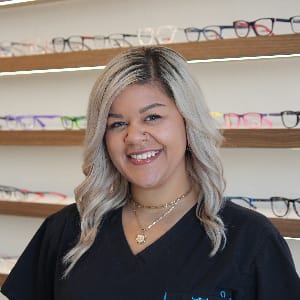 Jordann Bobo, Receptionist
Jordann was born in Oklahoma City, OK and raised in Edmond. She started with The Vision Center of Edmond in July of 2017. Jordann is the enthusiastic, friendly face always there to greet you when you enter our doors! She now resides in Guthrie with her husband and two boys. She enjoys music, shopping, traveling, and spending time with her family at the baseball fields.
---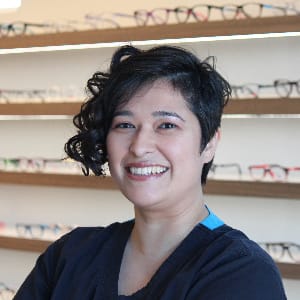 Ana Baker, Technician
Ana was born in Mexico and moved to Kingfisher at the age of 9. She graduated from Kingfisher High School in 2006. Ana began working for Edmond Family Eye Care in November of 2017. She is well versed in many areas, but excels in our tech department. Her interests include playing video games, reading, gardening, and playing with her cats.
---
Deborah Stock, Front Desk and
Optical
Deborah was born & raised in Oklahoma. She has always enjoyed the medical field, earning her Associates in Medical Assistant/x-ray Technician in 2014. When she isn't at work, she is enjoying her two precious boys, Christian & Benjamin. You can usually find Deborah watching movies, and enjoying family time.
Deborah joined our team in September 2021 seamlessly. She is bubbly, full of knowledge, and always ready to learn something new!
---
Katie Vreeland
Katelyn was born in Guthrie, Oklahoma where she graduated from high school in 2020. She began working on a local farm during her senior year, tending to 30 head of cattle. Her aspirations are being a rancher. You will find her favorite color, pink, incorporated into her outfits, nails, and accessories. Katelyn loves binge watching her favorite shows, country drives, and peaceful country life.
---
Alicia Sanchez
Alicia was born in Edmond & raised in Guthrie, Oklahoma. She is engaged to be married later this year to her fiance, Taylor. They share a sweet little girl named Maleena who was born in October of 2021. A fun fact is that she is a licensed real estate agent with Chinowth & Cohen. We have enjoyed Alicia's presence in our practice since March of 2022. Alicia enjoys reading, painting, and enjoying the new intricacies of family life.
---