Eyelid lift
TempSure® Envi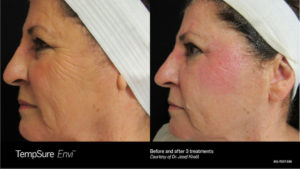 TempSure® Envi delivers radiofrequency technology to gently heat your skin. Increasing the skin's temperature for a defined, therapeutic time will trigger a natural response for your skin to create new collagen. The new collagen fibers are tight, dense and neatly organized giving you tighter, younger looking skin.
Advantages to TempSure® Envi:
It can be performed on all skin types, year round.
There is no down time after the TempSure® procedure.
It is comfortable to have done.
You will see immediate results, but collagen will continue to rebuild over time, enhancing your skin's appearance.
Treatments last approximately 30-60 minutes, depending on how large of an area is being treated.
Blepharoplasty
If your lids are drooping to the point where they affect your vision or if you simply don't like cosmetically how they look, a blepharoplasty may be the best option for you. A blepharoplasty is a surgical eyelid lift. We do not offer this service, but we refer to several specialists in the area.