Wrinkle Reduction
TempSure® Envi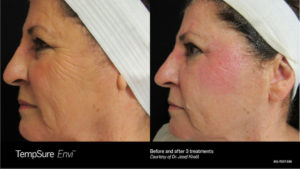 TempSure® Envi delivers radiofrequency technology to gently heat your skin. Increasing the skin's temperature for a defined, therapeutic time will trigger a natural response for your skin to create new collagen. The new collagen fibers are tight, dense and neatly organized giving you tighter, younger looking skin.
Advantages to TempSure® Envi:
It can be performed on all skin types, year round.
There is no down time after the TempSure® procedure.
It is comfortable to have done.
You will see immediate results, but collagen will continue to rebuild over time, enhancing your skin's appearance.
Treatments last approximately 30-60 minutes, depending on how large of an area is being treated.
Botox® Injections
Botox® (OnabotulinumtoxinA) injections are used for the temporary reduction of dynamic facial wrinkles around the eyes. This includes glabellar lines ("11's or "frown lines"), crow's feet, forehead lines, and brow lift.
Quick in-office treatments with no down time.
Amount of treatment needed varies from patient to patient.
Call 405-341-9480 for a free consult today!